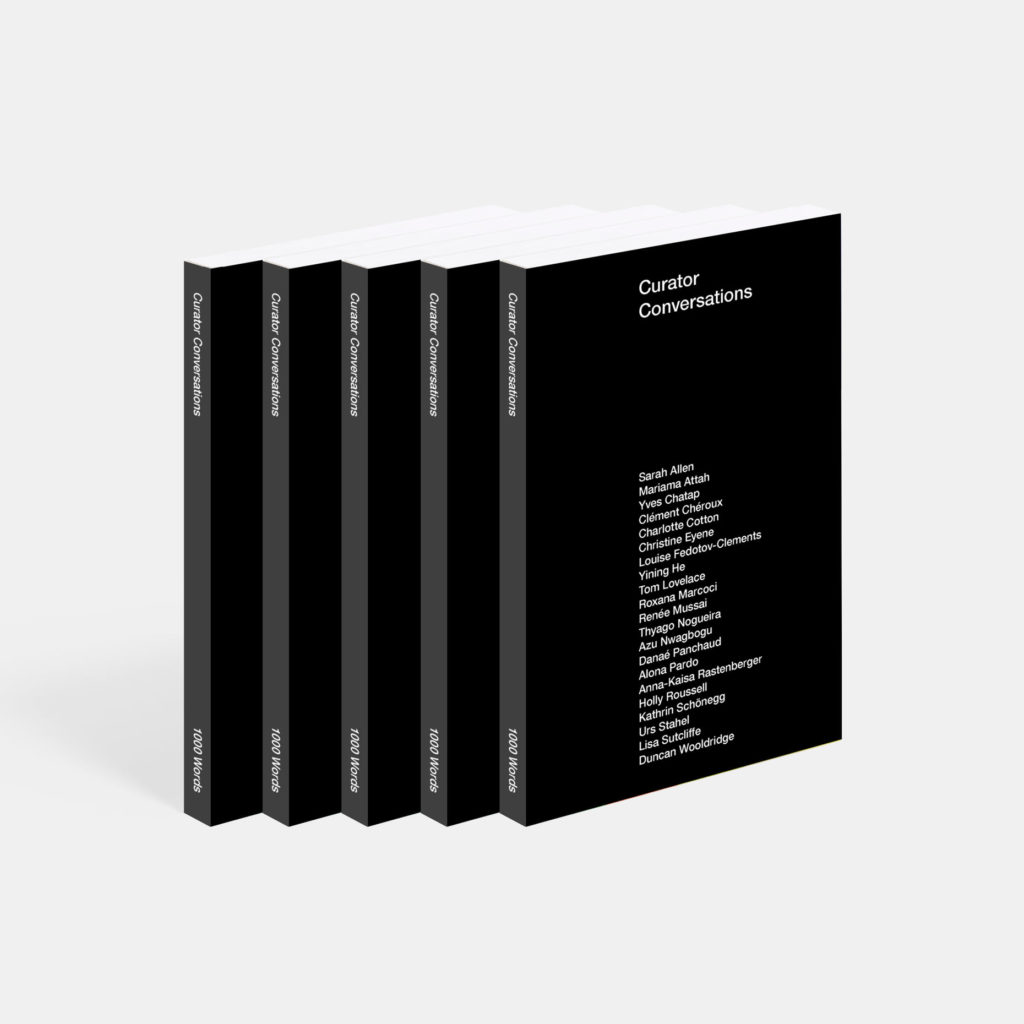 2020 | 1000 Words Magazine
Curator Conversations is a collection of interviews with leading curators working within contemporary photography today. It offers precious insights into key modes of thinking behind the curatorial practices that have resulted in influential and landmark exhibitions at galleries and museums across the globe, including MoMA, Tate Modern, Pompidou Centre, Fotomuseum Winterthur, Finnish Museum of Photography, Zeitz MOCAA – Museum of Contemporary Art Africa, Instituto Moreira Salles and SCôP: Shanghai Center of Photography, among others.
Set against the backdrop of the Covid-19 pandemic, when many institutions were forced to close to the public, these interviews provide wide-ranging discussions and a strong sense of critical self-reflexivity to explore the various ways curating mediates our experience and understanding of the photographic image. Among the fundamental questions engaged in the book are the medium specificity of photography; exhibitions as 'artwork'; critical contexts for imagery; the curator's role; collaboration and community; notions of ethics, responsibility and care; relationships between artists and curators, museums and audiences; as well as propositions for decolonisation through forms of curatorial activism. Ultimately, this volume sheds light on the aesthetic, political and personal concerns of creative individuals involved in exhibition-making, generating new pathways for thinking about the display and dissemination of photography.
Excerpts from my interview
What is it that attracts you to the exhibition form?
To me it's a medium that offers unique possibilities to connect different elements; to craft a narrative with depth, nuance and complexity, by using and often combining different visual and narrative strategies.
I'm also interested in the fact that it engages the body of the spectator, who chooses the distance they want to watch things from, their duration of looking at a particular image, installation or object. I think that it gives the spectator a form of agency, beyond the binaries of looking/not looking, that keeps you on your toes: you have to work to convince your audience to look closely at this image, to read that text in its entirety, rather than just cast a glance at the whole thing and move on. And this is sometimes you can even play extensively with. I once co-curated an interdisciplinary exhibition that had several hundred objects and where the overabundance of the material meant that the visitor really had to choose where to direct their attention. On the one hand, we had to get our meaning across, counting on the fact that the spectator would look at about 20% of the objects and read 10% of the texts (with everyone looking at and reading a different selection, at least partly), but on the other hand, we could also work with the overall effect of the scenography, the different atmosphere of the different sections, and the visual saturation to convey part of the meaning of the exhibition.
In that sense, exhibitions are a very challenging format, one that demand, to a certain degree, that you reinvent your approach for every project, and which require you to really take into account the spectator, anticipating their response, their interests, as well as the baggage they bring in with them and how that will impact their reception. That is not completely unique to exhibitions, of course, but that is in large part why I like working with them.
Working with photography as a curator is particularly interesting for me because it is a material that retains a certain plasticity: its materiality is not necessarily defined when we start working with the photographer, and this aspect is almost always part of the discussion as well as the challenges of making an exhibition. Photography is also a material that often does not belong to a single field. Of course, some practices fully belong to the contemporary art scene but so much of photography comes from different fields, from journalism to science or vernacular uses. Being the director of an institution specifically dedicated to photography, I can address issues with a single medium (in a broad sense that includes moving images or installations for instance) but from a variety of perspectives thanks to the ubiquity of photography in society.
What is the most memorable exhibition that you've visited?
A tough question, in part because terrible exhibitions are often the most memorable to me! And I have a bad habit of rage-visiting some museums I know I will hate. But I do really think that there is value in seeing bad exhibitions in that they often provide relevant learning opportunities (as well as opportunities to vent and come up with theories on museums and psychosis).
But among the many extraordinary shows that most informed my practice and my thinking about curating, the photography exhibitions at Musée d'Orsay curated by then Conservateur en chef Françoise Heilbrun stand out. Despite the collections covering photography from its inception to 1918, and an extremely classic scenography, each of her exhibitions had a very precise point of view, and were completely contemporary. They really had an impact on me.
Read the full interview and the entire series of Curator Conversations at 1000 Words Magazine, or order a copy of the book (10.99£, release December 2020).