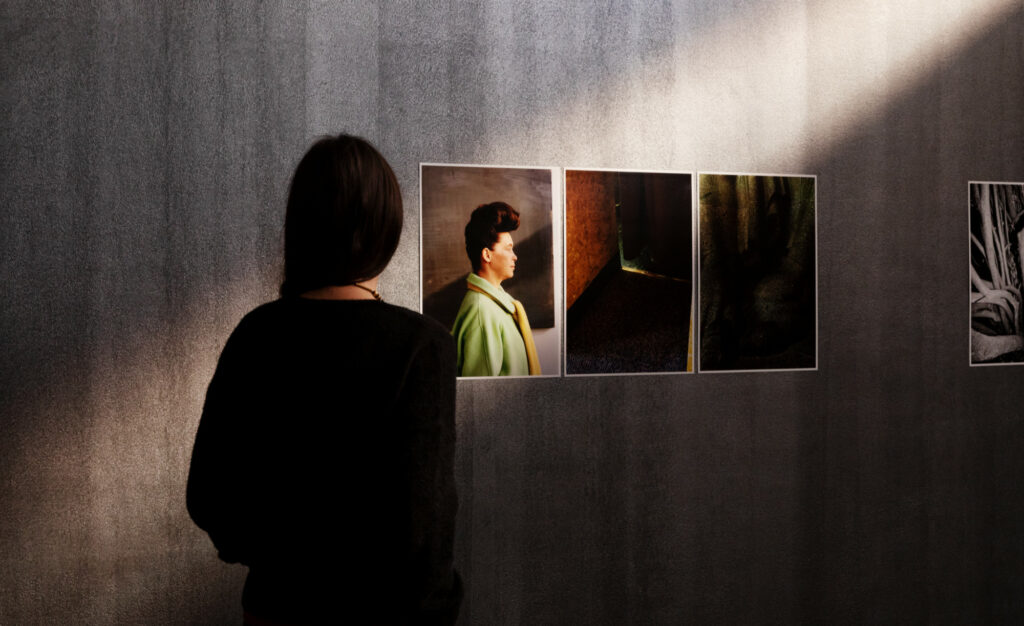 I have curated and co-curated over 40 exhibitions since 2012 for several institutions in Switzerland in the fields of photography, contemporary art, design and science.
Some of my favourite projects over the years include the group shows Hordes & Nuées (2014), Anatomies (2014-2016), Sillages (2019), Take Two (2013), Perfect Time Ahead (2019) and Narratives from Algeria (2020), as well as solo shows by Lisa Lurati (2018), Anne Morgenstern (2022), Lisa Barnard (2022), Anastasia Mityukova (2023) and Aleix Plademunt (2023).
Upcoming projects include solo shows by Hannah Darabi and Riar Rizaldi.
The exhibitions so far
Aleix Plademunt. Matter
Solo exhibition of the long-term investigation of matter by Catalan artist Aleix Plademunt
Centre de la photographie Genève | 2023
Human Rights 3.0
Exhibition of the five nominees to the Human Rights Photography Prize by the Foundation Act On Your Future.
Centre de la photographie Genève | 2023
Anastasia Mityukova. Avez-vous déjà vu un iceberg sous la pluie?
First comprehensive solo show of Anastasia Mityukova, presenting her research on the imaginaries of the Arctic from 2017 to 2022.
Centre de la photographie Genève | 2023
Lea Kunz. Naktakt
Solo presentation at artgenève in collaboration with standard/deluxe.
artgenève, Geneva | 2023
Akosua Viktoria Adu-Sanyah. Behold The Ocean
Solo show of Akosua Viktoria Adu-Sanyah's long-term project on climate research in Patagonia.
Centre de la photographie Genève | 2022
Lisa Barnard. The Canary and the Hammer
First solo show of Lisa Barnard in Europe and first comprehensive exhibition of her long-term research on gold.
Centre de la photographie Genève | 2022
Flora Imaginaria. The Flower in Contemporary Photography
Outdoors and indoors exhibition on the flower in contemporary photography featuring 50 contemporary international photographers and artists.
Curated with William Ewing
Marie Selby Botanical Gardens, Sarasota, Florida, USA
Abdo Shanan. Dry
First solo show of Abdo Shanan, dedicated to his project on exile, memory and Algerian identity.
Centre de la photographie Genève | 2022
Anne Morgenstern. Indocile et tendre
First solo show of Anne Morgenstern, dedicated to her latest long-term project exploring the relationship between body and identity, deconstructing the norms and social expectations surrounding the body.
Centre de la photographie Genève | 2022
Rhymes from Untold Realms
Outdoors exhibition on young Algerian photography.
Parc des Bastions, Geneva | 2022
Research Residency
New format for Photoforum Pasquart where an artist is invited to further their research for a month in the exhibition spaces, exchange with the audience and exhibit the ongoing results for another month.
Photoforum Pasquart, Biel | 2022
Prix Photoforum 2021
Annual photography award for emerging photographers. With Jeremy Ayer, Laura Giana Binggeli, Claudia Breitschmid, Arunà Canevascini, Chalotte Favre, Corinne Futterlieb, Assaf Hinden, Ruben Hollinger, Ianne Cynthia Kenfack Kitio, Pablo Lerma, Marianne Maric, Ronald Pizzoferrato, Tim Rod, Léonard Rossi, Tara Ulmann, Stephane Winter.
Curated with Aline Bovard Rudaz
Photoforum Pasquart, Biel | 2021
Céline Burnand. Retour à Helwan – La Maison des vivants
Monographic exhibition on the artist's explorations of her family history and archives, and themes linked to collective and individual history and visual culture.
Photoforum Pasquart, Biel | 2021
Bénédicte Blondeau. Ce qu'il reste
First monographic exhibition by Belgian artist Bénédicte Blondeau, whose work examines the relations between man-made hyper controlled environments and forms shaped in nature through time and evolution.
Photoforum Pasquart, Biel | 2021
Anthony Ayodele Obayomi. Give Us This Day
Exhibition of the first laureate of the Prix Taurus pour les arts visuels, with a project on the commodification of hope by the lottery and church systems in Lagos Mainland.
Curated with Tamara Ribeiro Ferrari
Photoforum Pasquart, Biel | 2021
Małgorzata Stankiewicz. cry of an echo
Proposition for the Biel/Bienne Festival of Photography on the theme of Cracks.
Photoforum Pasquart, Biel | 2021
Prix Photoforum 2020
Annual photography award for emerging photographers. With Akosua Viktoria Adu-Sanyah, Alexandra Baumgartner, Sabina Bösch, Aline Bovard Rudaz, Céline Brunko, Alexandra Dautel, Samuel Haettenschweiler, Nicole Hametner, Camille Millerand, Marcel Rickli, Léonard Rossi, Martin Widmer.
Curated with Tamara Ribeiro Ferrari
Photoforum Pasquart, Biel | 2021
Narratives from Algeria
An overview of contemporary Algerian photography in its plurality and its richness, through the work of 40 photographers, contextualised by selected moments of photography in Algeria from the 1830s onwards.
Curated with Abdo Shanan, and assisted by Miriam Edmunds
Photoforum Pasquart, Biel | 2020
Her Take: (Re)thinking Masculinity
Collective exhibition with the seven female photographers of the VII Agency on the topic of the representation of masculinity. With Anush Babajanyan, Linda Bournane Engelberth, Jessica Dimmock, Ilvy Njiokiktjien, Nicole Sobecki, Maggie Steber, Sara Terry.
Photoforum Pasquart, Biel | 2020
Prix Photoforum 2019
Annual photography award for emerging photographers. With Guillaume Baeriswyl, Christelle Boulé, Olga Bushkova, Jeanne Chevalier, Ludmila Claude, Charles Frôté, Peter Hauser, Pierre-Kastriot Jashari, Hugo Leos, Jonathan Levy, Laura Morier-Genoud, Jessie Schaer, Małgorzata Stankiewicz.
Photoforum Pasquart, Biel | 2019
Schaulust
Exhibition dedicated to our uses, production and consumption of the contemporary networked image through artists' positions and vernacular material. Avec Sophie Calle, Hannah Collins, Marine Dias Daniel, Jake Elwes, Seiichi Furuya, Paul Graham, Gregory Eddi Jones, Andy Kassier, Andy King, Marianne Müller, Christof Nüssli, Annelies Štrba, Shengze Zhu.
Curated with Miriam Edmunds
Photoforum Pasquart, Biel | 2019
Lukas Hoffmann & Matheline Marmy
An joint exhibition by two artists processing their observation of their environnment through the making of images or the reproduction of natural processes.
Photoforum Pasquart, Biel | 2019
Hochwasser, Sturm, Orkan,
Carte blanche to Myriam Ziehli on the topics of deluge and conservation for the Biel/Bienne Festival of Photography
Photoforum Pasquart, Biel | 2019
Sillages
A visual and olfactive exhibition exploring the visual and conceptual relations between perfume and photography. With Christelle Boulé, Olga Cafiero, Roberto Greco, Thibault Jouvent, Virginie Otth.
Photoforum Pasquart, Biel | 2019

Prix Photoforum 2018
Annual photography award for emerging photographers. With Anna-Tia Buss, Solène Gün, Maia Gusberti, Clément Lambelet, Vincent Levrat, Raphaël Lods, Olivier Lovey, Andrea Marioni, Anastasia Mityukova, Nicolas Polli, Marcel Rickli, Daniel Rihs, Maya Rochat, Nora Teylouni.
Photoforum Pasquart, Biel | 2018
Perfect Time Ahead
A rereading and reinterpretation of the commercial iconography of the watchmaking industry in the 20th century.
Curated with Clément Gicquel
Photoforum Pasquart, Biel | 2018
Lisa Lurati: Scherzo. Molto allegro quasi presto
First solo show of Lisa Lurati
Photoforum Pasquart, Biel | 2018
Ca l'Isidret
First exhibition in Switzerland of the co-founders of Ca l'Isidret, Roger Guaus, Aleix Plademunt and Juan Diego Valera, presenting a new body of work produced during a residency in Biel.
Photoforum Pasquart, Biel | 2018
Sediments of Happiness
An education and exhibition project exploring the relations between photography, memory and happiness, based on the experience and testimonies of the elderly residents of two nursing homes.
Curated with Carol Baumgartner
Photoforum Pasquart, Biel | 2018
Qu'en lira-t-on?
An interdisciplinary exhibition about reading without books in the 21st century, based on the research of industrial designer Nicolas Le Moigne.
With the contributions of Aurèle Sack (typography), Rachel Suming (illustration), EPFL+ECAL lab (virtual reality), Thibault Brevet (interactive design), Volumique (applications), Éditions animées (applications).
Curated with Nicolas Le Moigne, Gabrielle Chappuis and Susanne Hilpert-Stuber
mudac, Lausanne | 2016
Sélection | Auswahl 15
Annual international award exhibition for young photographers. With Bruno Aeberli, Federico Berardi, Jacques-Aurélien Brun, Simone Cavadini, Jojakim Cortis + Adrian Sonderegger, Baptiste Giroudon, Sandrine Gutierrez, Alexandre Haefeli, Lukas Hoffmann, Benoît Jeannet, Thibault Jouvent, Younès Klouche, Gian Paul Lozza, Franziska Rothenbühler, Neige Sanchez, Maurice Schobinger, Dominique Teufen.
Photoforum Pasquart, Biel | 2015
Laubscher | Petersen | Plademunt | Roessel
Exhibition presenting four artists who use photography as an investigation tool and mix personal and public archives to articulate new narratives. With Yann Laubscher, Regine Petersen, Aleix Plademunt, Jonathan Roessel.
Curated with Daniel Muller
Photoforum Pasquart, Biel | 2015
Hordes & nuées
Hordes & Nuées [Hordes & Swarms] is a visual essay about animality, bringing together in a narrative sequence 104 appropriated images from 56 photographers. It explores our relationship to animality in an exuberant visual assemblage where the postures, attitudes and gestures of men and animals echo one another.
Curated with Myriam Ziehli
CEPV – Festival Images, Vevey | 2014
Anatomies
A transdisciplinary exhibition about the historical and contemporary conceptions and representations of the body in biology and medicine, and how sociological, pedagogical and artistic aspects fashion these representations.
Curated with Roxanne Currat and Carolina Liebling
Musée de la main UNIL-CHUV (Fondation Verdan), Lausanne; Anatomisches Museum, Basel; Kulturama, Zurich | 2014-2016
Nirvana. Strange forms of pleasure (fragrance section)
A selection of 14 contemporary fragrances related to animality, eroticism and fetishism. With fragrances by Éditions de parfums Frédéric Malle, État Libre d'Orange, Heeley, Lubin, Maître Parfumeur et Gantier, Nasomatto, Oriza L. Legrand, Parfum d'Empire, Parfumerie Générale, Vero Profumo.
Exhibition curated by Marco Costantini
mudac, Lausanne | 2014
Take Two
An exhibition presenting ve video pieces about reenactment selected from the Fonds André Iten (part of the contemporary art collection of the City of Geneva) and invited artists, with an exhibition display created by a young artist collective from Geneva. With John Baldessari, Yael Bartana, Iain Forsyth & Jane Pollard, Gianni Motti, Richard Serra.
Curated with David Gagnebin-de Bons
Médiathèque du Fonds d'Art Contemporain de la Ville de Genève, Geneva | 2014
A House For E.D.
An exhibition and book symbolically reconstructing the Amherst house where Emily Dickinson lived, shut away from the world.
With Tonatiuh Ambrosetti, Nicolas Delaroche, Daniela Droz, David Gagnebin-de Bons, Florian Graf, Roberto Greco, Shannon Guerrico.
Assistant curator. Main curator: Marco Costantini
Le Commun – Bâtiment d'Art Contemporain, Geneva | 2014
Blow Flies
An essay on contemporary still life in art and photography. With Emile Barret, Vanessa Billy, Saskia Edens, David Gagnebin-de Bons, Christian Gonzenbach, huber.huber, Virginie Otth.
Curated with Brigitte Lustenberger and Nadine Wietlisbach
Photoforum Pasquart, Biel | 2013
Virginie Otth. Internal Dimension
Carte blanche exhibition to artist and photographer Virginie Otth.
Galerie SAKS, Geneva | 2013
Lapses
Exhibition with three artists whose works are deployed in carefully devised displays, occupying or appropriating a given space, playing between dimensions and maintaining precise ties with the photographic image.
With Olga Cafiero, Clare Kenny, Sébastien Verdon.
Galerie SAKS, Geneva | 2013
Bang Bang Jagona
First exhibition of young artists Laure Marville and Yoan Mudry.
standard/deluxe, Lausanne | 2012
The Breath On Our Back
An exhibition about hygiene and utopia and the potential authoritarian turn of past and current ideals of self-preservation, security and general well-being.
With Anoush Abrar, Graziella Antonini, Clovis Baechtold, Laurence Bonvin, Line Chollet, Elisa Larvego, Yann Mingard, Anne-Julie Raccoursier, Virginie Rebetez.
Curated with Maude Oswald
Photoforum Pasquart, Biel | 2012