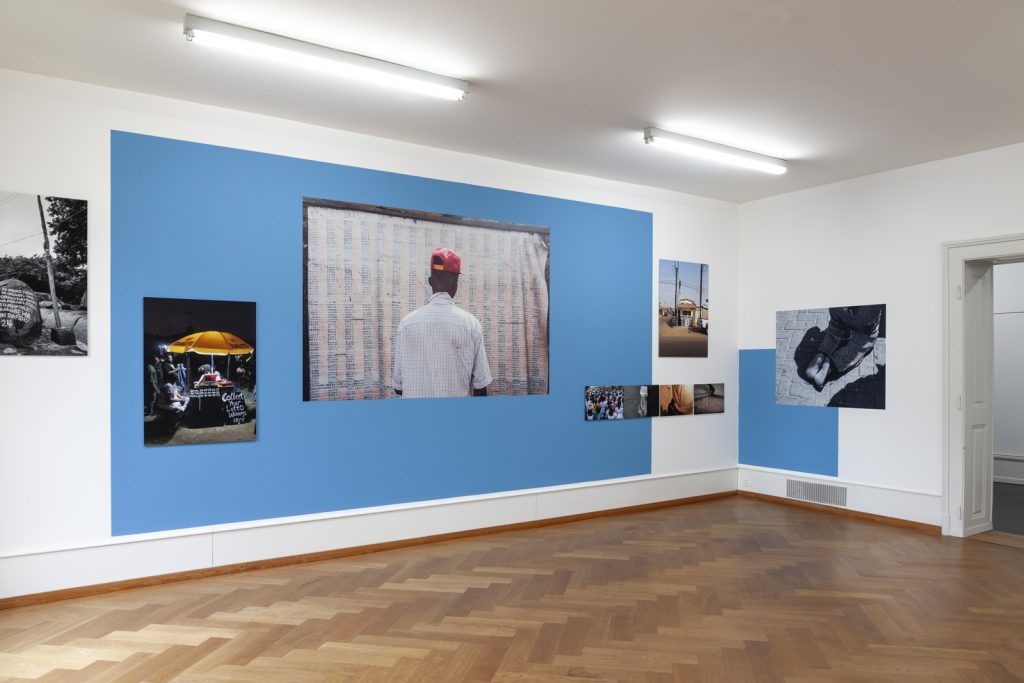 2021 | Photoforum Pasquart, Biel
Curated with Tamara Ribeiro Ferrari
The Photoforum presents, in partnership with the Taurus Foundation for Arts and Sciences and the Biel/Bienne Festival of Photography, the exhibition Give Us This Day by Nigerian artist Anthony Ayodele Obayomi (*1994), laureate of the 2019 Taurus Prize for Visual Arts.
His work explores the commodification of hope through the prism of lotteries and churches of different faiths in Lagos Mainland. He examines their many similarities, from their organisational structures to their social impact and psychological functions for those who long to improve their current situation.
Hope is a commodity that sells extremely well in the less privileged areas of Lagos, according to the artist, who is witness to the daily hardships of the population of Lagos Mainland (the mainland part of Nigeria's economic capital). His project explores two of the psychological mechanisms that the inhabitants use to cope with very difficult living conditions. While lottery and religious fanaticism co-exist in many parts of the world, they do not necessarily go hand in hand. In Lagos Mainland, however, the two practices are similar in structure, effect and function, and serve the same needs. Selling hope at low prices and exploiting the perspective of a better future is the spring and the financial manna on which Nigerian gambling companies and religious institutions rely.
Unlike in Switzerland, buying a lottery ticket in Nigeria is not a hobby investment. Due to non-functioning labour markets, a lack of social structures and generally difficult living conditions, the purchase of a ticket can fundamentally alter the course of the day and decide whether there is a meal on the table in the evening. While most players know they will not win, a lottery ticket is still a 'cheap' investment in the possibility of a better life, and a permission to daydream. It is thus no surprise that the lottery industry in Nigeria has become a multi-billion enterprise that brings about 10 billion naira (around CHF 22 million) into the state coffers every year. Premier Lotto, also known as 'Baba Ijebu', is the largest gaming company in Nigeria. Based in Lagos Mainland, it has about 200 agents leading a team of 16,000 salespeople across the West.
Meanwhile, hope is also reflected in the behaviour of churchgoers. Much like the lottery, religious institu- tions are booming, and they heavily rely on individual donations. According to Forbes magazine, four of the ten richest priests in the world, with a combined wealth of USD 249,000,000 are based in Lagos.
Give Us This Day explores some of the practices that offer, at a relatively low cost, a reason to believe in a better future, even when everything seems to point to the contrary. His expressive photographs document seemingly banal everyday situations: passers-by in brightly patterned clothing, gatherings of believers, ubiquitous lottery booths and churches. They highlight troubling parallels in the gestures of betting and praying, and in the gatherings around churches and lotteries alike, and bring attention to how ingrained into the social fabric of Lagos Mainland they are. In the exhibition, the images are brought into constant dialogue with each other, reflecting social imbalance, symbolising the effort to change and showing us different forms of coping mechanisms.
Le Photoforum présente, en partenariat avec la Fondation Taurus pour les arts et les sciences et les Journées photographiques de Bienne, l'exposition Give Us This Day de l'artiste nigérian Anthony Ayodele Obayomi (*1994), lauréat du Prix Taurus pour les arts visuels 2019.
Son travail explore la marchandisation de l'espoir à travers le prisme des loteries et des églises de différentes confessions à Lagos Mainland. Il examine leurs nombreuses similitudes, de leurs structures organisationnelles à leur impact social, comme leurs fonctions psychologiques pour ceux qui aspirent à améliorer leur situation actuelle.
L'espoir est une denrée qui se vend très bien dans les zones les moins privilégiées de Lagos, selon l'artiste, qui est témoin des difficultés quotidiennes de la population de Lagos Mainland (la partie continentale de la capitale économique du Nigeria). Son projet explore deux des mécanismes psychologiques que les ha- bitants utilisent pour faire face à des conditions de vie très difficiles. Si la loterie et le fanatisme religieux coexistent dans de nombreuses régions du monde, ils ne vont pas nécessairement de pair. A Lagos Mainland, cependant, les deux pratiques sont similaires en termes de structure, d'effets et de fonction, et répondent aux mêmes besoins. Vendre l'espoir à bas prix et exploiter la perspective d'un avenir meilleur, voilà le ressort et la manne financière sur lesquels s'appuient les sociétés de jeux et les institutions religieuses nigérianes.
En Suisse, l'achat d'un billet de loterie relève souvent du loisir. Au Nigeria, la situation est très différente. En raison du non-fonctionnement du marché du travail, de l'absence de structures sociales et des conditions de vie généralement difficiles, l'achat d'un billet peut modifier fondamentalement le cours de la journée et décider s'il y aura un repas sur la table le soir. Même si la plupart des joueurs savent qu'ils ne gagneront pas, un billet de loterie reste un investissement "bon marché" dans la possibilité d'une vie meilleure, et une possi- bilité de rêver. Il n'est donc pas surprenant que l'industrie de la loterie au Nigeria pèse plusieurs millards, et rapporte chaque année environ 10 milliards de naira (environ 22 millions de francs suisses) dans les caisses de l'État. Premier Lotto, également connu sous le nom de "Baba Ijebu", est la plus grande société de jeux du Nigeria. Basée à Lagos Mainland, elle compte environ 200 agents à la tête d'une équipe de 16'000 vendeurs dans tout l'ouest du pays.
En parallèle, l'espoir se reflète également dans le comportement des pratiquants. Tout comme la loterie, les institutions religieuses sont en plein essor, et elles dépendent fortement des dons individuels. Selon le magazine Forbes, quatre des dix prêtres les plus riches du monde, avec une fortune combinée de 249'000'000 millions de dollars américains, sont basés à Lagos.
Give Us This Day explore certaines des pratiques qui offrent, à un coût relativement faible, une possibilité de croire en un avenir meilleur, même lorsque tout semble pointer vers le contraire. Ses photographies expressives documentent des situations quotidiennes apparemment banales: des passants portant des vêtements aux motifs éclatants, des rassemblements de croyants, l'omniprésence des stands de loterie et des églises. Elles mettent en évidence des parallèles troublants dans les gestes de pari et de prière, ainsi que dans les rassemblements autour des églises et des loteries, et attirent l'attention sur le fait qu'ils sont profondément ancrés dans le tissu social de Lagos Mainland. Dans l'exposition, les images sont mises en dialogue constant les unes avec les autres, reflétant le déséquilibre social et les efforts envers le changement, et nous montrant différentes formes de mécanismes d'adaptation.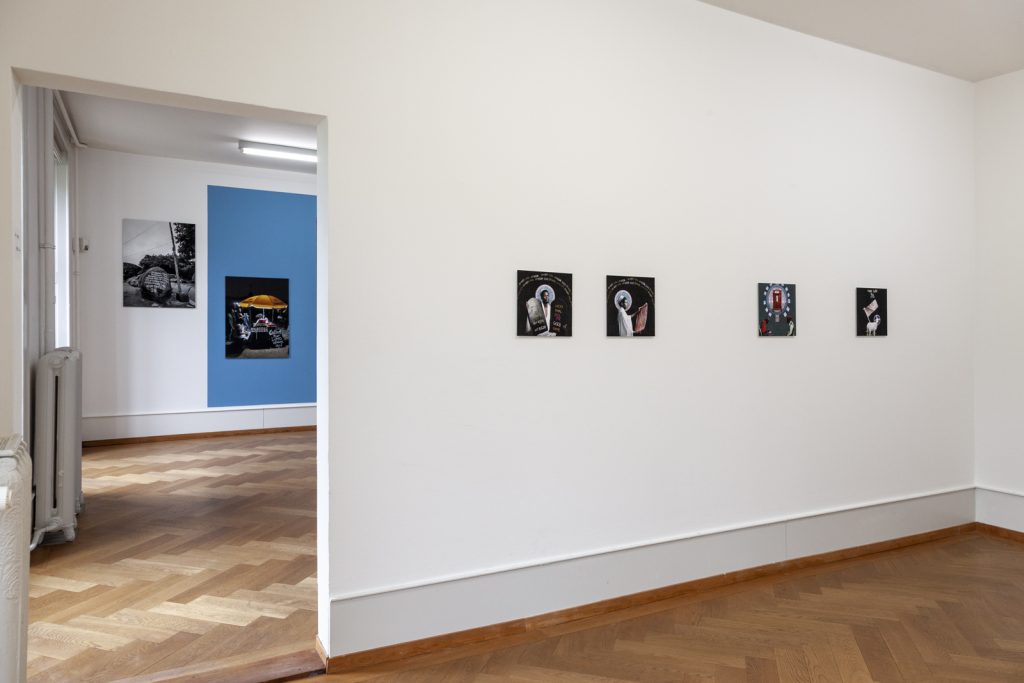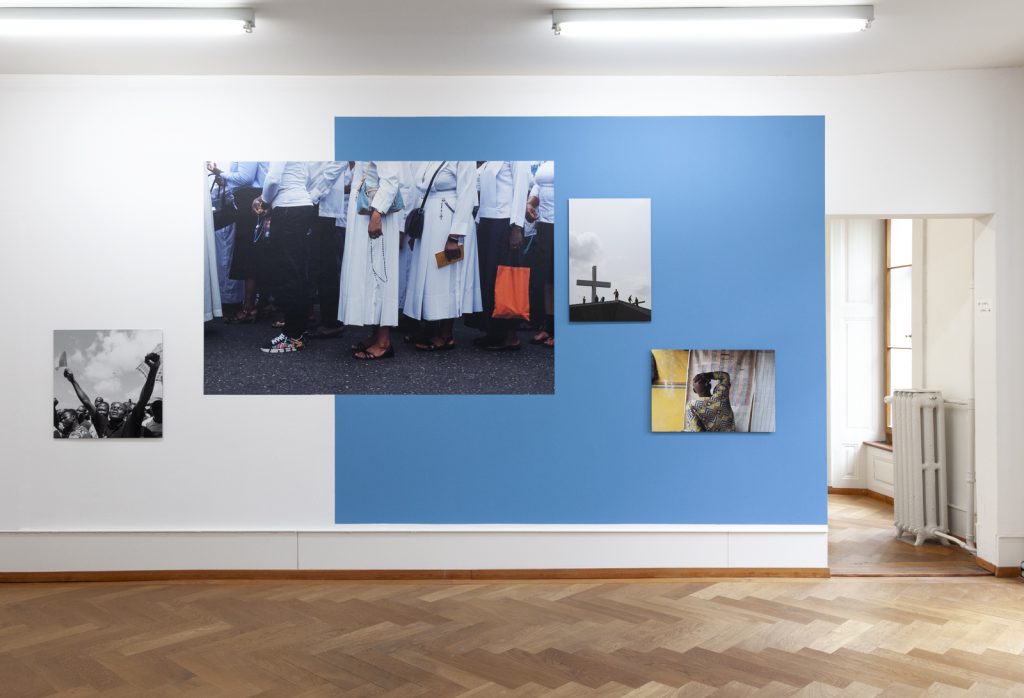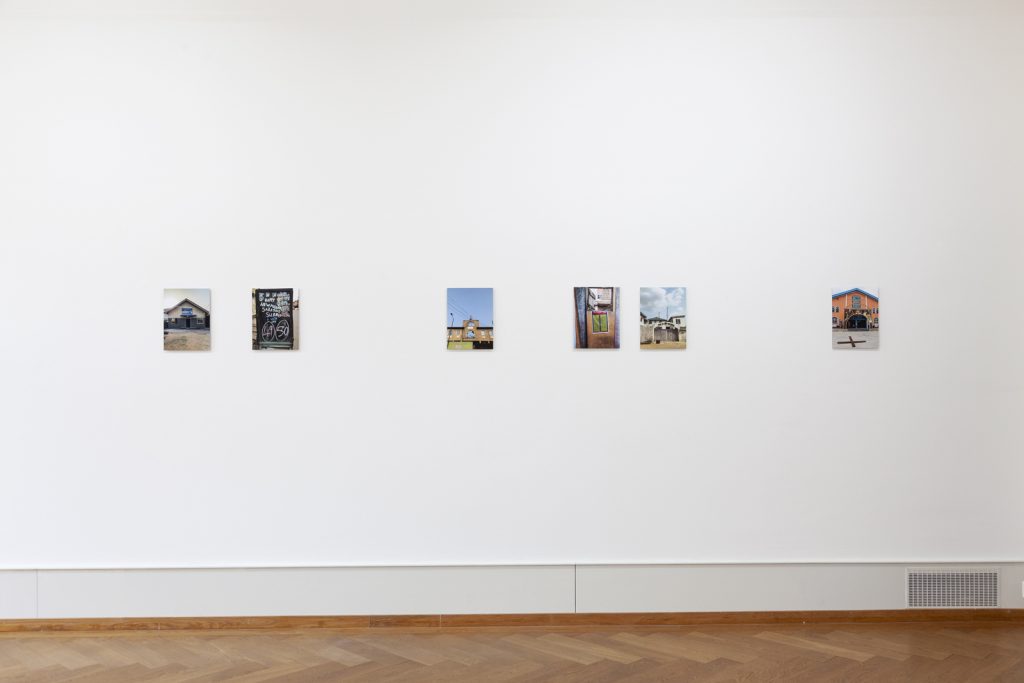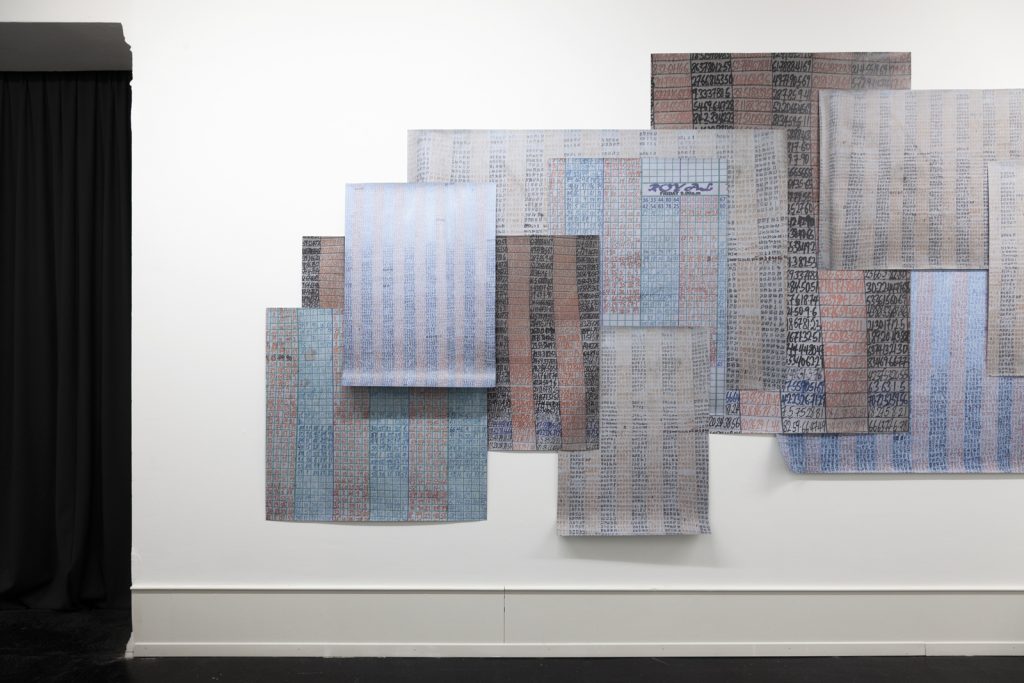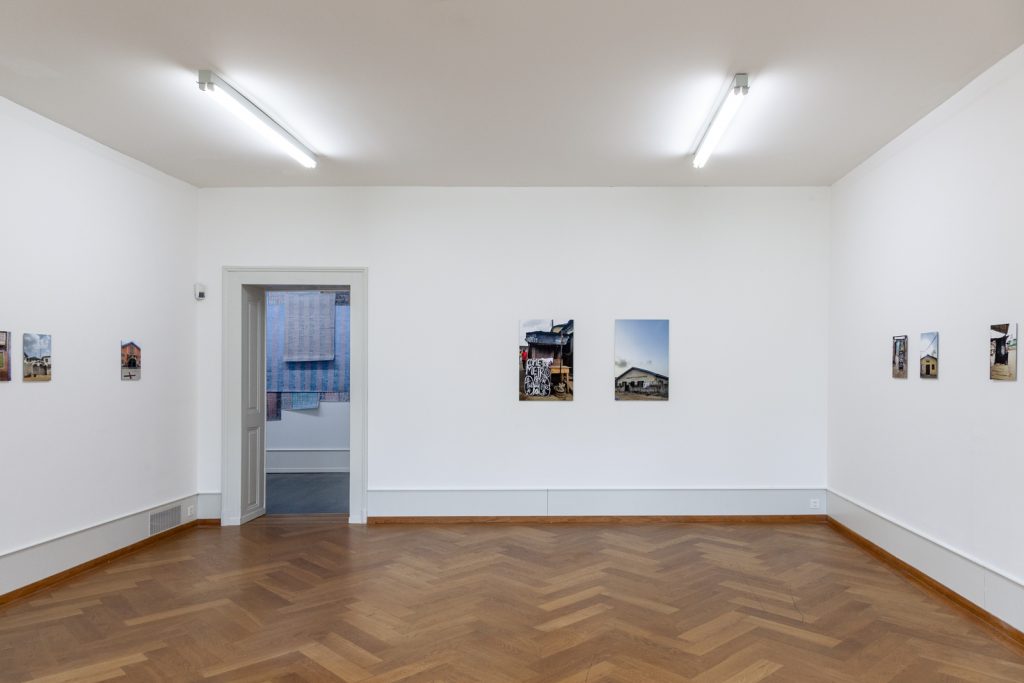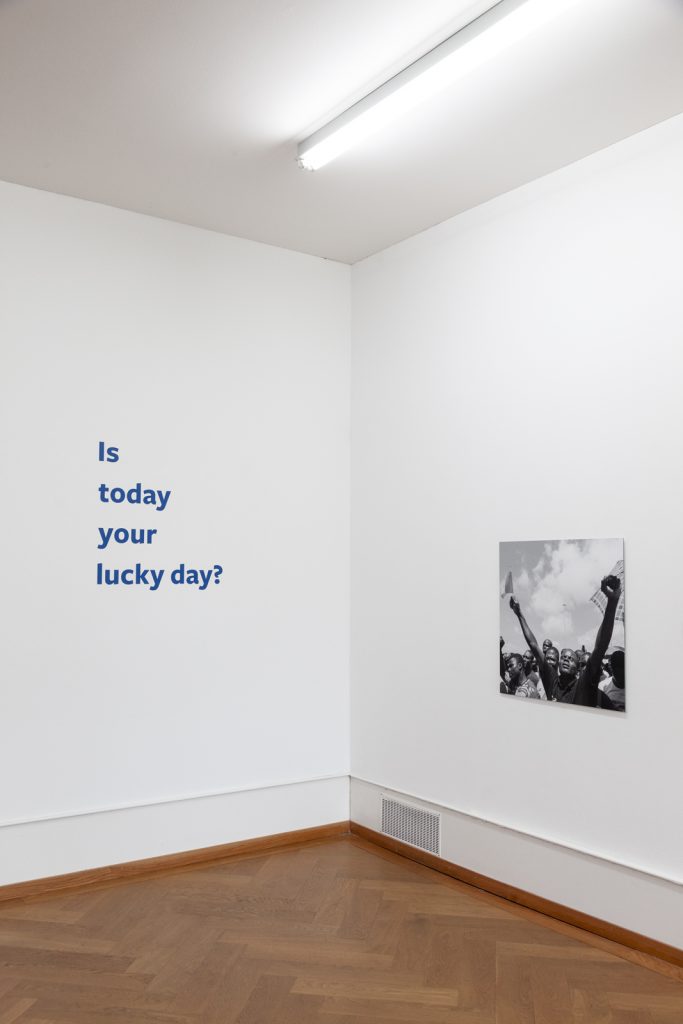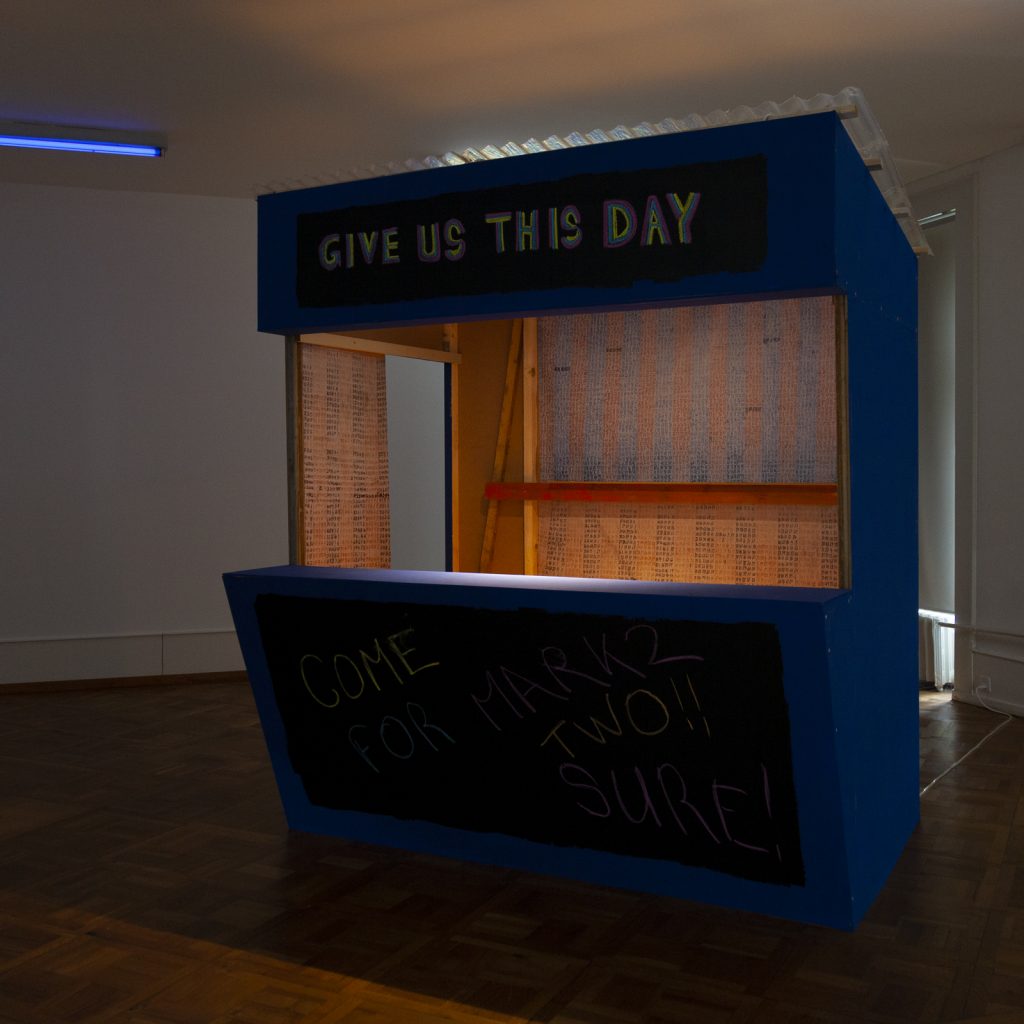 Exhibition views by Melina Wicht