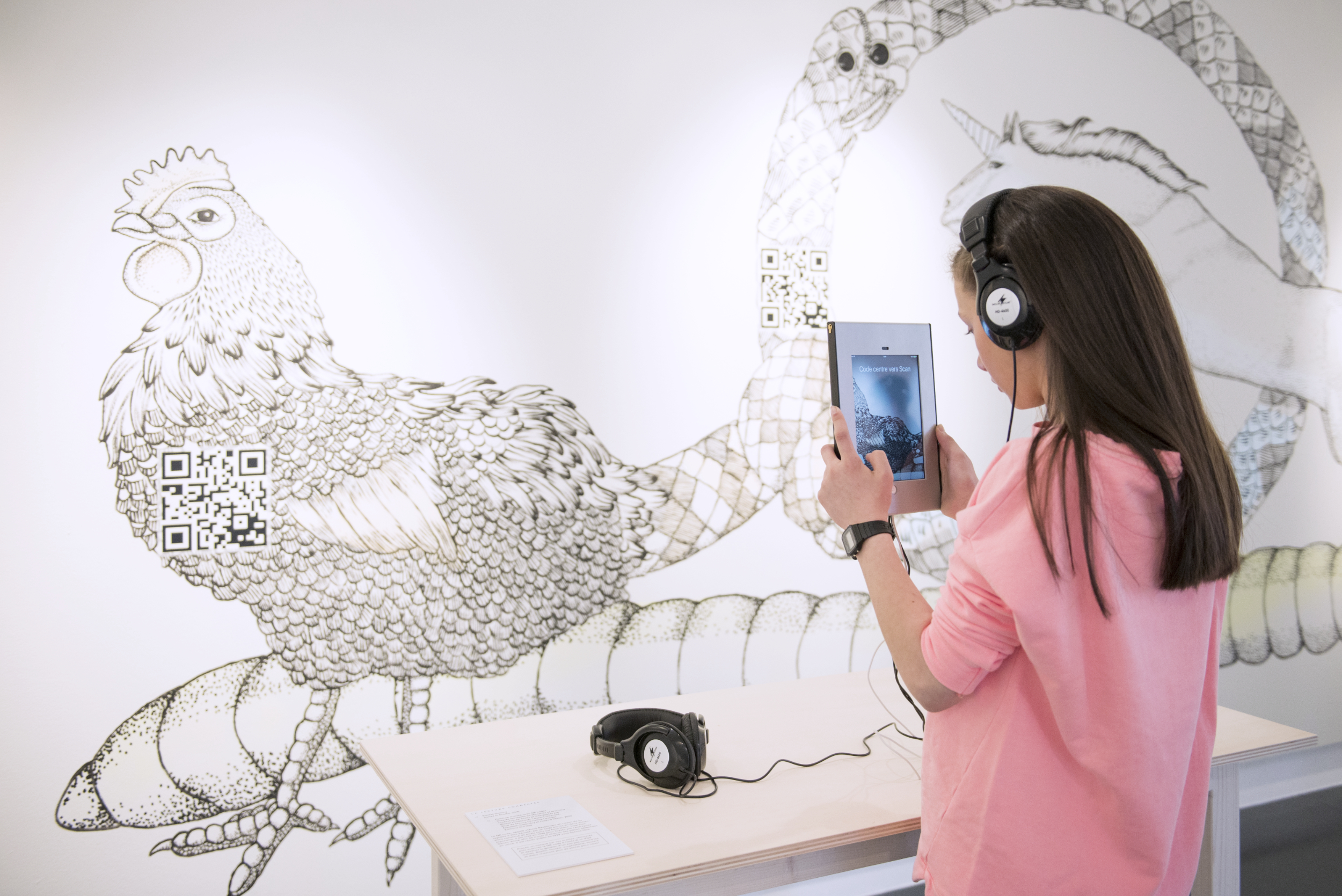 Curated with Nicolas Le Moigne, Gabrielle Chappuis and Susanne Hilpert Stuber
2016
mudac, Lausanne
2017
Bibliothèque de la Cité, Geneva
The mudac introduces the rst exhibition on reading… without books! Qu'en lira-t-on ? [What Will We Be Reading?] starts from the idea that, far from disappearing, reading is a pleasure that can now be found in a multitude of sometimes unexpected forms: it is an ode to the joy of reading. Inspired by the French author Daniel Pennac's 10 rights of the reader, it adds an eleventh right: the right to read without books. In the exhibition, stories slip into whispering pillows, suck us into virtual and immersive worlds, give up their secrets only after decoding and manipulation, and take shape beneath our eyes and our ngers.
Conceived by the industrial designer Nicolas Le Moigne and the mudac team, the exhibition presents a series of sometimes interactive installations, which bring stories to life in poetic, facetious and enchanting ways: we are invited to dive in, whether standing, seated or lying down. Far from proclaiming the end of the paper book as we know it, the aim is to celebrate the pleasure of discovery and the imagination, in words and in images. Ideal for keen readers of all ages, and suitable for children.
Le mudac présente la première exposition sur la lecture… sans livre! Partant du constat que la lecture, bien loin de disparaître, est un plaisir qui se décline désormais sous des formes multiples et inattendues, Qu'en lira-t-on? est une ode à la joie de lire. Inspirée des 10 droits du lecteur de l'écrivain français Daniel Pennac, elle lui ajoute un onzième droit: le droit de lire sans livre.
Dans l'exposition, les histoires se glissent dans des coussins chuchoteurs, nous aspirent dans des mondes virtuels et immersifs, livrent leurs secrets après décodages et manipulations, et prennent forme sous nos yeux ou nos doigts. L'exposition présente une série d'installations, interactives pour certaines, qui font vivre les histoires sous des formes poétiques, facétieuses ou captivantes, et dans lesquelles on se plonge debout, assis ou couché. Loin de proclamer la fin du livre en papier tel que nous le connaissons, elle entend célébrer le plaisir de la découverte et de l'imaginaire, mis en mots et en images. Pensée pour tous ceux qui apprécient la lecture, l'exposition s'adresse également au jeune public.
With contributions by Aurèle Sack (typography), Rachel Suming (illustration), EPFL+ECAL lab (virtual reality), Thibault Brevet (interactive design), Volumique (web applications), Éditions animées (web applications)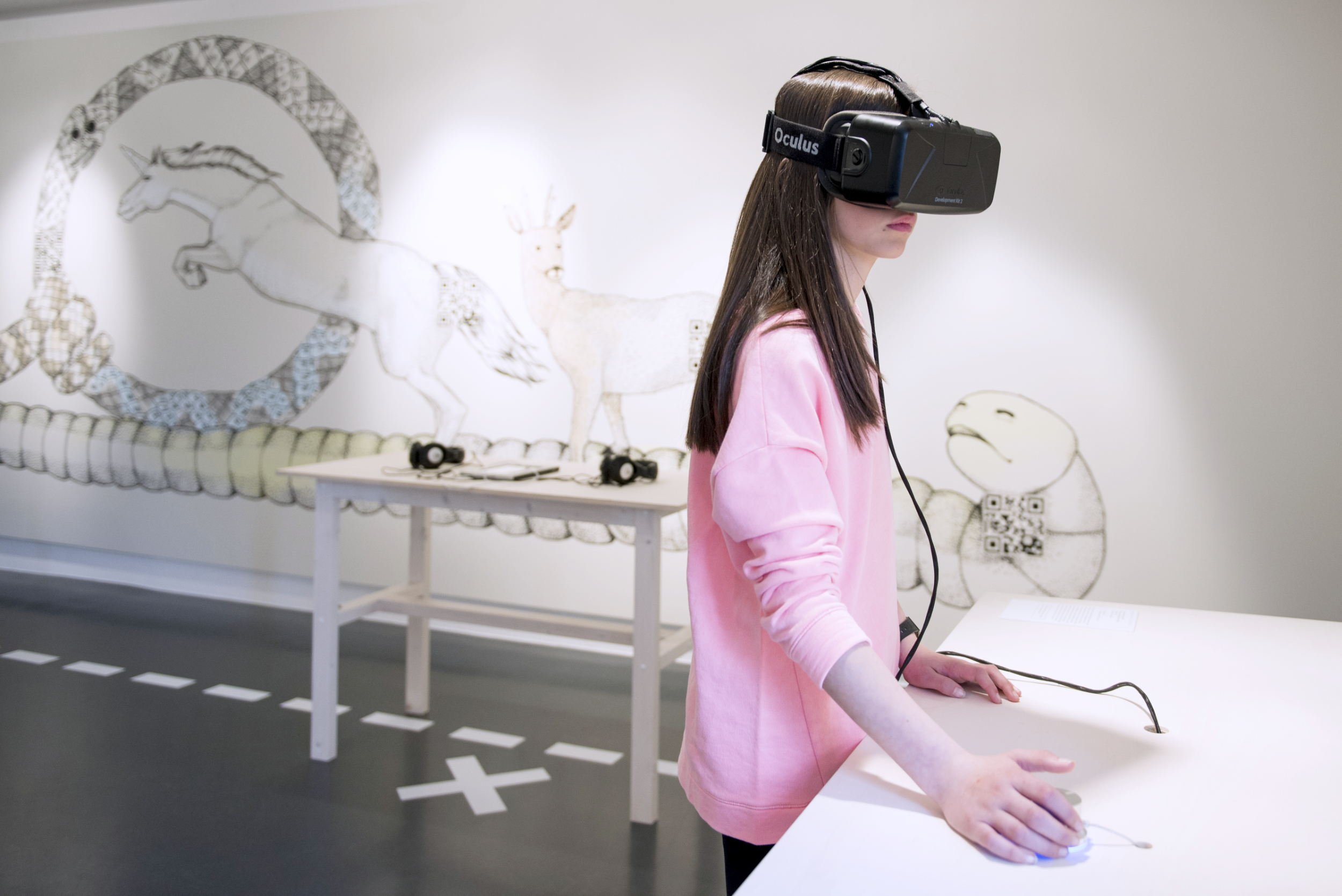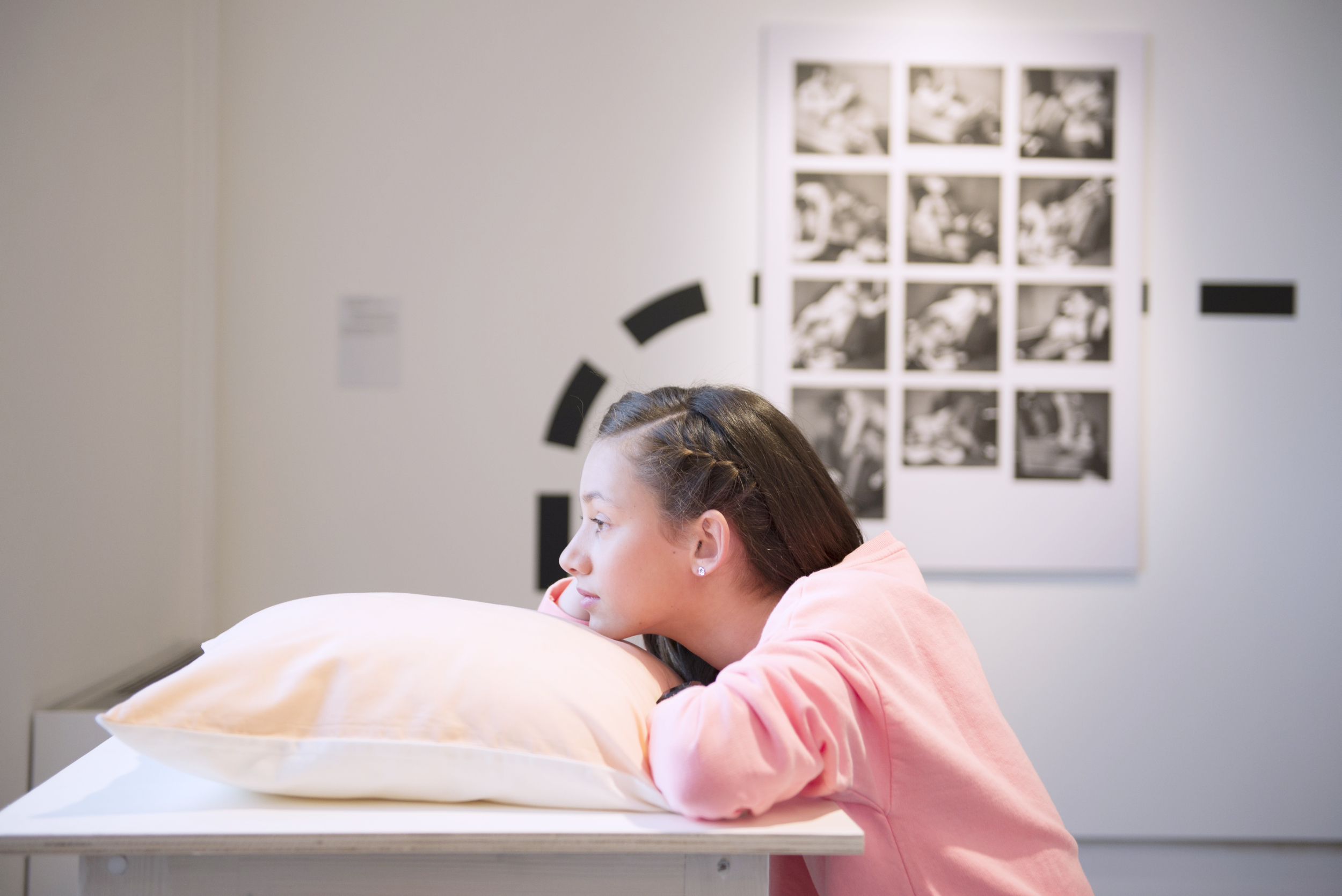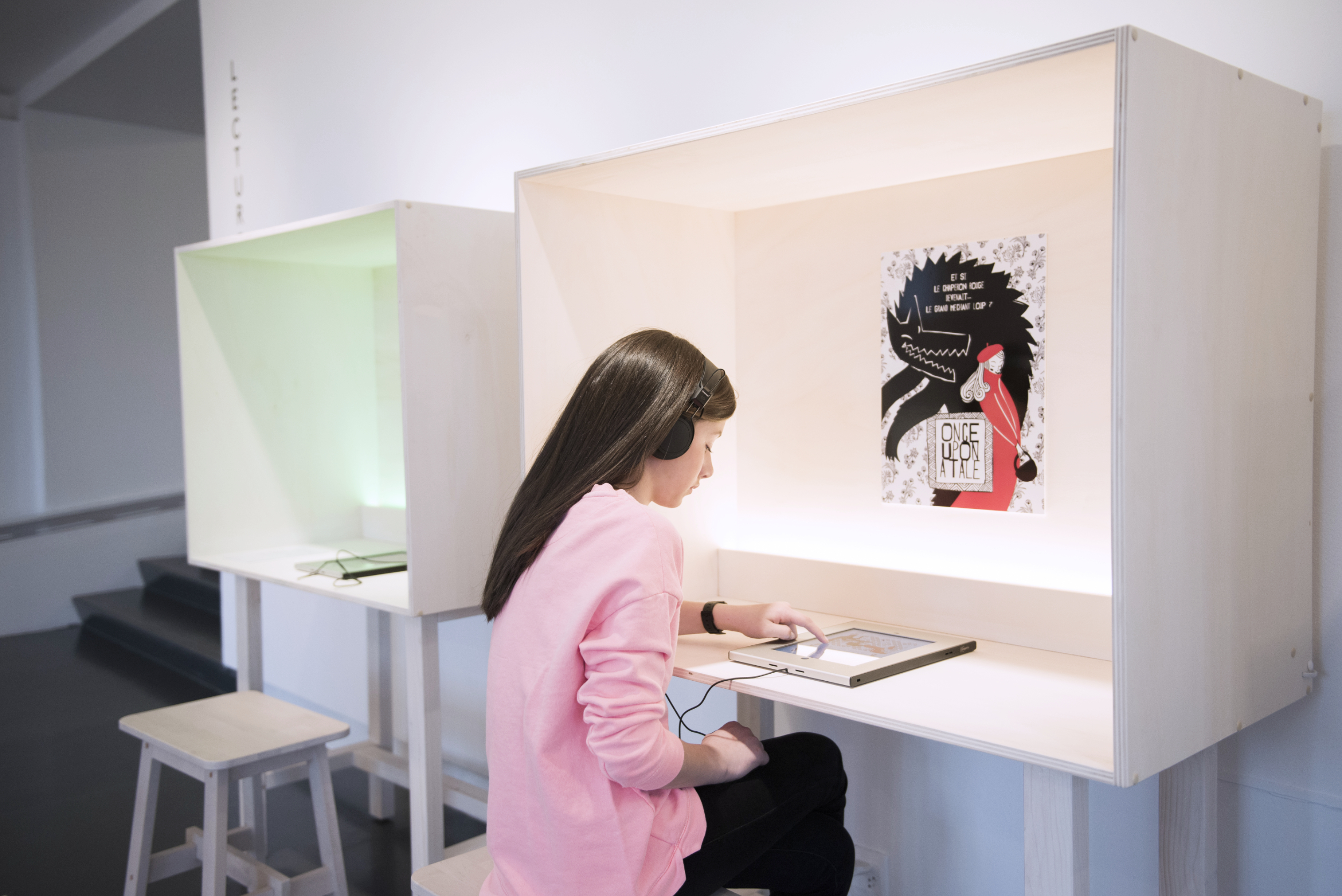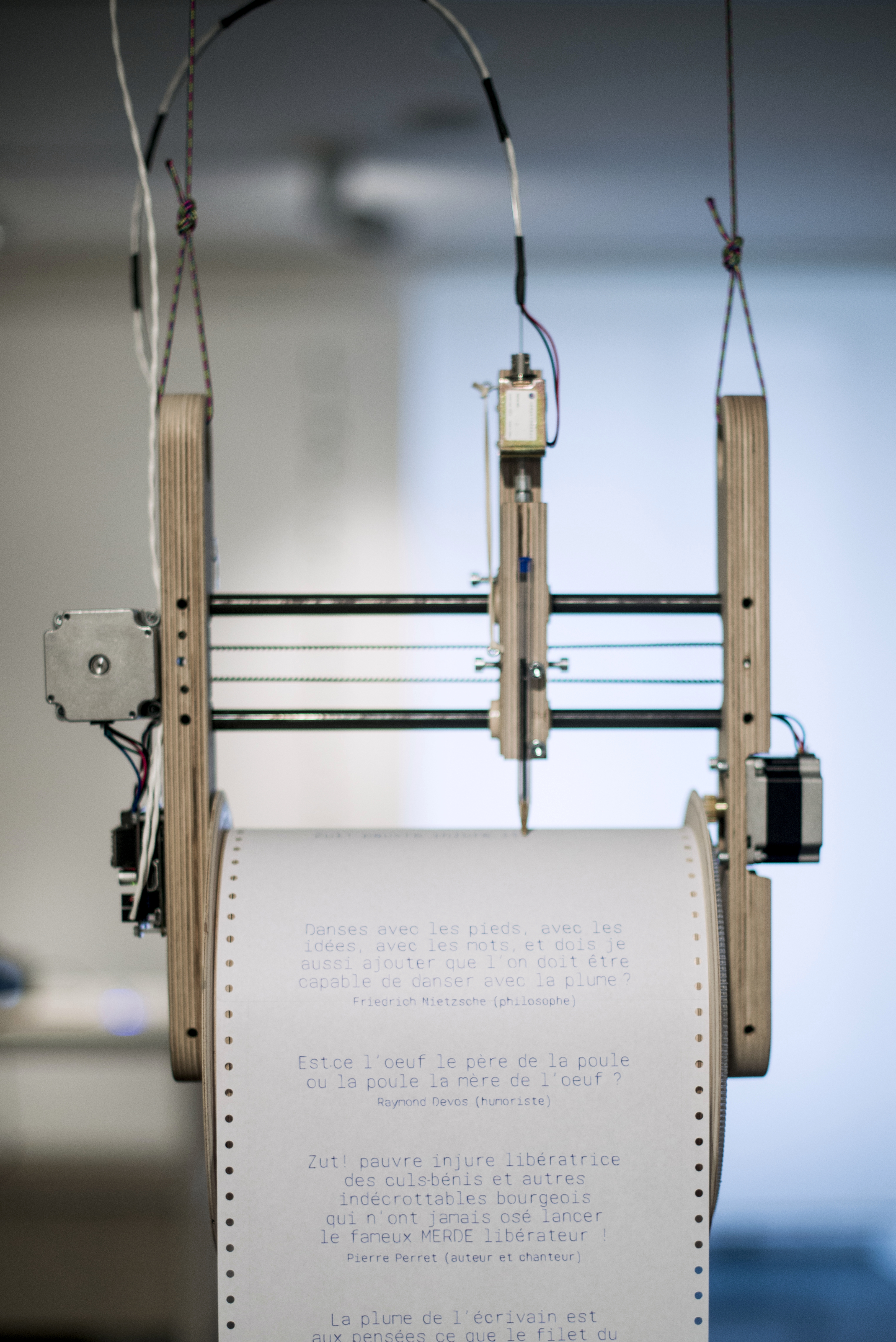 Images: Delphine Schacher