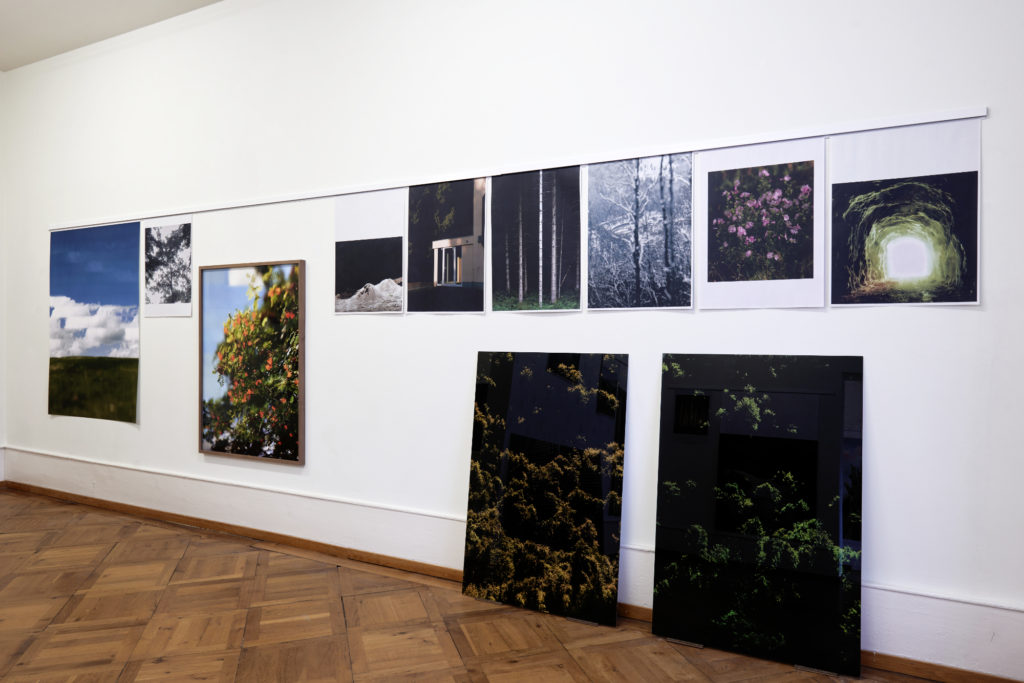 2020 | Photoforum Pasquart, Biel
Ricochet is the first exhibition of the long-term project by the Biel-based artist Rudolf Steiner. Initiated in 2013, this project encompasses several hundred photographic landscapes taken in the area of Biel and Rondchâtel, near the author's studio.
There is a strange and fascinating beauty in these images, which appear simultaneously familiar and puzzling. Their photographic precision is challenged by unexpected patterns, textures and inconsistencies. We can guess that they are created through to the camera and the process of shooting, but their nature is not immediately decipherable. In addition to his formal research, Rudolf Steiner is offering with Ricochet a reflection on the role of art and the representation of landscape in the current context of the profound climatic upheavals that are affecting our environment on a global scale. Although landscape photography can be perceived a priori as a neutral form of expression, concerned above all with the beauty of a given territory, it is nevertheless almost always revealing of the relationship between man and his environment, of the ideals and fantasies that he harbours towards nature, and finally of the image that a society forms of itself. At the time of the Industrial Revolution, for example, artists were depicting grandiose and immaculate landscapes, when nature was undergoing brutal transformations due to the frenzy of human activity.
Ricochet's photographs are made using a photographic robot that generates several dozen contiguous shots before assembling them by computer. Used in this particular way, this method of making images sees errors accumulate since, during the 10 to 30 minute shoot, the light and weather conditions change and generate visual aberrations. They symbolically echo the transformations inflicted by man on the landscape, and the loss of human control over these phenomena. Rudolf Steiner's landscapes are both disconcerting and visually very attractive. In a subtle way, they invite the viewer to reflect on man's imprint on the landscape, which is becoming ever more striking at a time when human activities are now profoundly transforming the climate.
The title of the series echoes ancient understandings of the mechanism of vision, in which the eye was thought to emit a visual ray that scanned the visible world in a manner similar to Ricochet's method of shooting.
Ricochet est la première exposition du projet au long cours de l'artiste biennois Rudolf Steiner. Initié en 2013, ce projet riche de plusieurs centaines d'images est centré sur les paysages des environs de Bienne et Rond- châtel, près du studio de l'auteur.
Il se dégage une étrange et fascinante beauté de ces images, à la fois familières et déroutantes. A leur préci- sion photographique vient s'ajouter des motifs, des textures, et des incohérences inattendus. On les devine dus à la caméra et au processus de prise de vue, mais leur nature n'est pas immédiatement déchiffrable. En sus d'une recherche formelle, Rudolf Steiner mène en effet avec Ricochet une réflexion sur le rôle de l'art et de la représentation du paysage dans le contexte actuel des bouleversements climatiques profonds qui affectent notre environnement à l'échelle planétaire. Si le paysage peut être perçu a priori comme une forme d'expres- sion neutre et avant tout préoccupée par la beauté des territoires, il est néanmoins presque toujours révéla- teur des rapports que l'homme entretient à son environnement, des idéaux et des fantasmes qu'il nourrit envers la nature, et enfin de l'image qu'a d'elle-même une société. Au moment de la révolution industrielle, par exemple, les artistes s'attachaient à dépeindre des paysages grandioses et immaculés, alors même que la nature subissait de brutales transformations dues à la frénésie de l'activité humaine.
Les photographies de Ricochet sont réalisées au moyen d'un robot photographique générant plusieurs dizaines de clichés contigus avant de les assembler par ordinateur. Utilisée de cette manière, cette méthode de réalisation des images voit les erreurs s'accumuler puisque qu'au cours de la prise de vue, d'une durée de 10 à 30 minutes, les conditions lumineuses et météorologiques se modifient, et génèrent ces aberrations visuelles. Elles font ainsi symboliquement écho aux transformation infligées par l'homme sur le paysage, et à la perte de contrôle humaine sur ces phénomènes. A la fois déconcertants mais visuellement très attrayants, les paysages de Rudolf Steiner invitent de manière subtile le spectateur à une réflexion sur l'empreinte hu- maine de l'homme sur le paysage, toujours plus marquante à l'heure où les activités humaines vont jusqu'à transformer profondément le climat.
Le titre de la série fait quant à lui écho à d'anciennes compréhensions du mécanisme de la vision, où l'on pensait que l'œil émettait un rayon visuel qui balayait le monde visible, d'une manière similaire à la méthode de prise de vue de Ricochet.